A unique, brand new CD-Rom titled 'DIAMONDS: Treatments, Synthetics and Simulants', created and produced by the Diamond Trading Company, is now available to buy exclusively from Gem-A, the Gemmolgical Association of Great Britain, for $ 36 ($23.50). This essential tool for gemmologists and diamond specialists was launched simultaneously at the AGTA Show, Tucson, USA, and Spring Fair 2004, Birmingham, UK.

''Our CD-Rom provides a definitive guide on maintaing the integrity of diamonds in the new age of treatments and synthetics,'' said Gem-A 's Chief Executive Terry Davidson, '' Gemmologists and dimond specialists can now get in a sinle diska unique multimedia presentation on the challenges facing the diamond in dustry today. lt provides a tremendous training resource and reference guide that cannot be surpassed.''

The CD-Rom contains animated graphics, videos and over 250 slides to provide details on the very latest gemmological advamces relating to:
HPHT (high pressure, high temperature) grown synthetics
CVD (chemical vapour deposition) synthetics
HPHT treatments
Black diamonds
Fracture filling
External and internal laser drilling
Simulants
Those using the CD-Rom can explore in greater depth by clicking on references to key technical papers, wall charts and review articles from leading journals.

At its second international auction, held from January 26 to March 4 , ALROSA sold 18,500 carats of diamonds, worth more than USD 18 million. on the whole,97 lost of diamonds were sold. The company sold large diamonds that were over 50 carats each, the largest of which weighed over 649 carats. The Finance Ministry' s expert commission however did not evaluate the traded precious stones as "unique. " 38 Russian and foreign companies took part in the quction, which was organised in conjunction with the
Russian Diamond Chamber. Meanwhile, Severalmaz OJSC.a subsidiary of ALROSA. has launched and priced a USD 100 million Credit - Linked Note (CLN). which has attracted strong interest from some of the world's largest investors. with Asia and the United Kingdom taking the lion's share, followed by Russia and Switzerland.
The CLN will be used to develop mining activity in the Lomonsov diamond deposit in Arkangeisk region of Russia, which is estimated to by the largest diamond field in Europe with reserves of around 365 million tons - worth USD 12 billion. the development of the Lomonosov deposit is a key step in further strengthening ALROSA's global market position. The first ore will be processed towasds the end of 2004, with a major ore processing plant capable of handling 5.6 million tons of ore each year due for completion in 2008.

A minefield of loose diamonds has been discovered at a distance of a score of kilometers from Murmansk, a major Russian city on the Kola Peninsula north of the Arctic Peninsula north of the Arctic Circle according to an ltar- Tass report. Geological survey expedition members from Murmansk who were looking for sources of potable water in the vicinity of the city unexpectedly foud diamonds in a


bore specimen extracted from a 50 meter - deep well. "lt was a surprise but also a fact. We really foud loose diamonds that are not characteristic of the kola Peninsula but are of industrial value. This is an uncommon find for the kola Peninsula," the expedition's chief hydrogeologist Galona Melekhova told ltar-Tass. "We would certainly be happy to find the diamond pipe from which loose dimonds may have come. but there are no allocations from the federal budget for the continuation of the exploration," she said.

The collection of Faberge eggs, purchased from the Forbes family in February, will be touring Russia beginning in May
. The tour will begin the Kremlin, where a collection of 10 Imperial Faberge eggs,the world' s largest, already sits. The collection will also be shown in Moscow and the State Hermitage Museum in St.Petersburg. From st. Petersburg. the eggs will go to Yekaterinburg.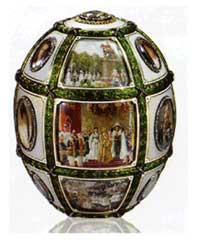 where the Russian imperial family was executed in 1918. When he purcgased the eggs. Russian businessman Viktor Vekselberg said Yekaterinburg would be logical for a display because czar Nicholas ll and the Empress Alexandra, to whom he gave the prized Coronation Egg, were executed there.
Malcolm S. Forbes, the late publisher and editor of Foorbes magazine, collected the eggs from the 1960s until his death in 1990,The eggs and other choice piecs from the collection, including stine carvings,gold cigatte cases. and gem-studded picture frames, will remain on display at sotheby's New York galleries before Vekselbergreturns the collection to Russia.


The first DVD in the International Colored Gemstone Association's (ICA) much-anticipated documentary series "In Puruit of Precious Stones" has been produced and is now ready for distribution. The series. produced by ICA in cooperation with renowned French gemologist Patrick Voillot, will consist of four DVDs. each with three full, hour-long documentaries that mix a serious scientific approach with high adventure and no small amount of danger, as the viewer is taken to the magical places where rare coloured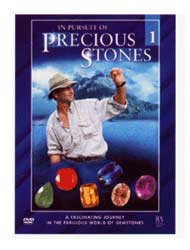 gemstones are found.
Each expedition visits a different country, centres arond a particular gemstone from that area, and exposes the viewer to some of the most isolated, forgotten corners of the planet,
Each DVD has English and French soundtracks, making it an ideal coloured gemstone primer throughout the U.S and Canada. In Europe, the DVD will also feature soundtrack in Spanish, Italian and German. Never dry or technical, the series shows the intrepid Voillot climbing down mud holes in Mogok, Burma, in search of rubies, and trekking across dangerous glaciers in the mountains of Kashmir. In search of sapphires, he takes the viewer deep into the fascinating and seldom-seen world of the international gem dealer, showing secret mine locations, cutting and poloshing operations, and the gemstone markets and distribution channels from country to country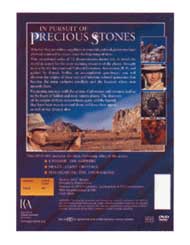 Not only is ICA 's "In Pursuit of Precious Stones" series an exciting world trvelogue and introduction to the exciting international world of coloured gemstones, but it will make an ideal sales tool for retailers who want to add some sizzle to the steak by conveying to their clients not just the rarity and value of coloured gemstones, but their inherent beauty, excitement and romance. Realising their entertainment as well as educational value, several national and public television stations have expressed an interest in broadcasting these programs to their mass audiences.
The first DVD features sapphires from Kashmir; giant crystals and imperial topaz from Brazil; and tourmalines of Madagascar, including sapphires from the fabulous Illakaka mines. Programs on the upcoming DVDs in ICA 's series include: Ruby from Burma; Emerald from Colombia; Moonstone & Sapphires from Srilanka; Jade from Guatemala; Aquamarine from Pakistan; Ametrine from Bolivia; Tanzanite from Tanzania; Opal from Australia; and coloured Diamonds from Guinea.
"ICA's foremost task is the promotion of coloured gemstones downstream, among retailers and ultimately among jewellery consumers," Jean Claude Michelou, an ICA executive committee member of Colombia, stated. "This project is a giant step forward and emphasises our organisation's endeavour to become the major promotional engine for the coloured gemstone trade."

Invest Heavily in Hall 6 for National Pavilions
Basel world 2004, ti be held from April 15-22, will open with a brand new hall added to its already sprawling exhibittion complex. Hall 6, the Hall of Universe, which was specially built for this event, will house the Country Pavilions. The restructuring of Basel World actually began about three years ago and is now complete. Last year's failed experiment led to the abandoning of the One Show, Two Locations concept and the organisers have spent heavily to invest in creating a splendid new show ground for the national pavilions.
1. Mr.Rene' Kamn,CEO MCH Swiss Exhibitions Ltd,
2. From left : Mr. Nandor von der Leuhe,President of Swiss Thai Chamber of Commerce and Agent for the Thailand Pavilions in Hall 6 at BaselWorld 2004, Ms,Sylvie Sengelin Ritter, Show Director and Mr. Martin Fergusson ,Sales Director of BaselWorld
3. BaselWorld 's Hall
The new restructured Basel World features stands positioned to reflect the structure of the market. This realignment was deemed necessary because of the overlap of watch and jewellery beands in recent years. Earlier, it used to be that watches and jewellery typically came from different houses but now the distinction is blurred. So you have jewellers like Harry Winston and Van Cleef & Arpels producing watches that are excuses to put diamonds and jewellery on the left wrist and you have watch brands like Swatch and Omega that have launched their own jewellery lines. It therefore became necessary to create a distinction between the two.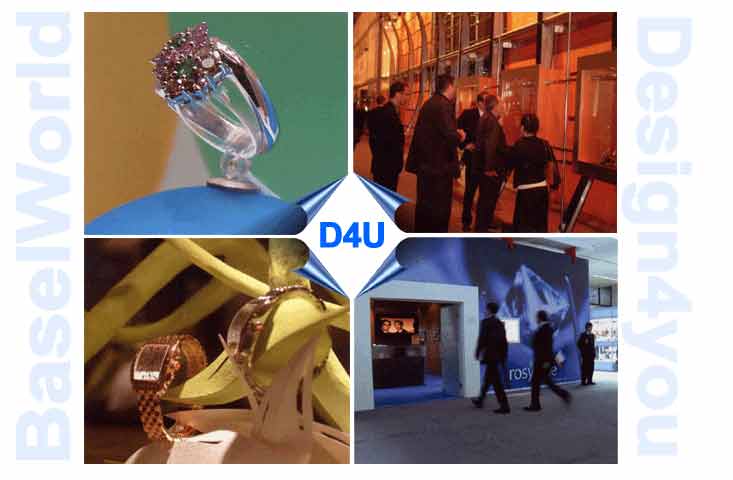 This initiative has actually safeguarded BaselWorld 's position as the guaranteed premium quality meeting ground for the watch and jeweelery world. As perhaps the world's most important international show for brands, especially in the premium and prestige ends and more so for watches, BaselWorld is the premier showcase for the industry and with the luxury goods sector still remaining buoyant even in an otherwise economically lacklustre year,it is even more relevant to the market of today.




This year, in keeping with its streamlined structure, BaselWorld is moving its Media Centre to a central location on Messeplatz, where visitors can find a wide selection of daily papers, trade journals and magazines along with full background information on the publications presented. For the first time visitors will be able to benefit from the facilities of this conveniently located Media Centre during and after the visit to the show.



With the inclusion of the new Hall of Universe, which covers 28,000 square metres, BaselWorld is now expanded to a full 160,000 square metres of space that will host 2,100 exhibitors, many of whom exhibit exclusively at this show and 80,000 visitors from all over the world making it the biggest watch and jewellery show ever.