From another mine in Ouro Preto, they were also heating the natural browner imperial topaz to a refined bubble-gum pink, which was acceptable because the pink color was stable and greatly improved the unfavorable brownish tone. It would be very interesting to know how many billion dollars of blue topaz have been sold since the irradiation of white topaz was discovered in the 1970's. It may be just the tip of the iceberg for the profits this topaz mistress will make for you, considering the high-tech advancements since the dawn of this millennium, such as Diffused Topaz and Mystic topaz.
Brazilians and Americans used transparent white topaz to irradiate with cobalt, thereby miraculously transforming it to light blue topaz. It quickly became a staple in jewelry manufacturing and merchadising, selling multi -millions of carats per year.
Next, someone from California found that irradiating the same white topaz with a linear accelerator, instead of cobalt, produced extraordinarily dazzling shades of sky-blue.
NOTE:
The irradiation of white topaz, unlike the straw-color turning to golden, was more than accepted. It was welcome! Because the changed color was 100% stable and satisfied a fashion requirement for blue gemstones, such as aquamarine, at a very affordable price.
Then the British, and soon Americans, were using nuclear reactors for neutron irradiation to produce dark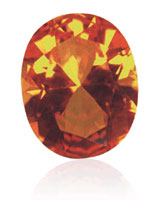 sapphire-blue, christened London-Blue Topaz. the legitimacy for this process was a grey area, as the government became involved vis-a-vis health concerns of the citizenry. When it was shown that safe and sound release-criteria could be satisfactorily demonstrated and proved, fashion trends triumphed because the saturated blue hue fulfilled the female craving for sapphire at a mere fraction of the price.
On the heels of the government, lawyers soon became involved with topaz's miraculous mistress when some more Californians discovered the combination of linear accelerator and neutron irradiation created the extraordinarily scintillating and dazzling color that was baptized Swiss Blue. It was patentable! Was it the beginning of the beginning, or the beginning of the end for Topaz?
As you will see, it was a new beginning for topaz's established seductive mistress, technology. She went High-Tech! In fact, topaz's new color-enhancement, modus operand i is going so High-Tech that it ALL requires being patened immediately upon its discovery and development. This, so these small mirables do not take the price-collapse path of CZ.
It is debatable who was first to discover this new irradiation blend, but it was certainly a Californian. one group, Natural Arts called it "New Blue", but never talked to a lawyer about it. The other group, Mineral Sciences, didn't give it a special name, but patented the precess and forbade other dealers from duplicating it. New Blue was soon marketed through Golay Buchel, who trademarked the name, Swiss Blue Topaz . At that time, Swiss Blue was selling wholesale for $ 5.00/ct. Within 3 years, regardless of Mineral Sciences' patent, other dealers were learing the secret and producing the same color overseas without legal penalty. Before long, Swiss Blue was wholesaling for less than $ 2.00/ct.